Tips To Buying Shrubs Online
If you're an avid gardener, then you know the importance of shrubs as defining plants in your garden. Any plants with woody bases less than 26 feet tall with many stems at or near the base are considered shrubs. Though most shrubs are perennials, a few are annuals, and they are usually loved because of their rapid growth. Been looking for the perfect shrubs to add to your garden or landscape, you've come to the right place. Here we go over buying shrubs online, including popular uses for shrubs and what to look for with an online nursery.
Ready to make your garden stand out as a breathtaking landscape? Let's get started.
Your How-To Guide To Buying Shrubs Online
You probably already know that shrubs can be considered the foundation of every beautiful landscape. They can be added to any garden theme and be the perfect accent to any home. Gardeners love them because they are very versatile. The most popular reason people consider buying shrubs online is to use them as privacy fences or add borders to their space. Plus, they are hardy and easy to grow.
Read on as we give you a quick overview of how and why you should buy shrubs online.
Start With Looking For Shrubs In Your Zone
Not all online nurseries are like Tennessee Wholesale Nursery. They will sell you any shrub online without considering they might not work in your region, which is why we let you select shrubs that are guaranteed to thrive in your zone. Just browse through our selection and decide what kind of shrub you're looking for.
Whether it's flowering or green and thick, we've got shrubs that will suit every garden. With our one-year warranty and our low wholesale prices – what are you waiting for?
Know The Differences Between Shrub Types
If you're getting into gardening and landscaping, you might think that most bushes and shrubs are primarily green. There are so many flowering varieties that can add a pop of color and a little flair to your lawn. These types of shrubs are lovely in the spring when it seems that your entire garden comes to life with color. We suggest Burning Bush for beginning gardeners because it is a large shrub that is easy to grow and isn't very high maintenance. It works great in containers, in flower beds, and as a border too.
Flowering shrubs are always an attractive addition to both commercial landscapes and household lawns. Some of the most popular include honeysuckle, lilac, dogwoods, and hydrangea. Most flowering shrubs are the top choice for gardeners because they are relatively resistant to pests and diseases and pretty resilient. Plus, they look great as accents and work well as hedges and linings. Don't forget how great they look when they bloom! Add variety to your yard by buying flowering shrubs online.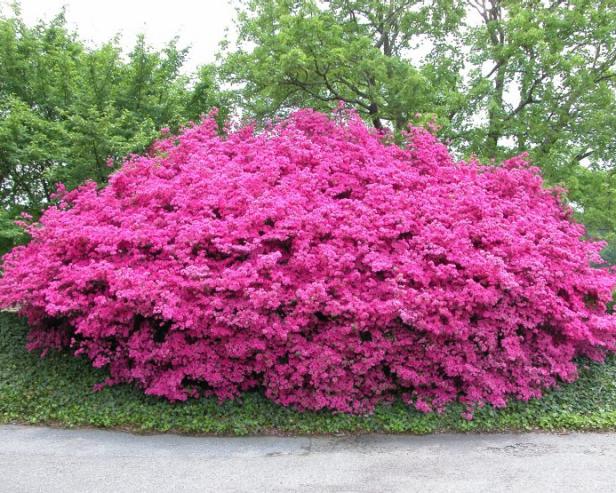 Buying Shrubs Online For Creating An Edge On Your Property?
Are you looking for a way to edge your lawn and make it look professional? Buying shrubs online can help you do just that. You don't have to use the typical green shrub. Tennessee Wholesale Nursery has alternatives like privet shrubs, forsythia, and burning bush to add some variety.
The key to planting suitable shrubs on your property, you must choose something that adds a level of sophistication to your lawn that isn't too hard to manage. Whether it's in front of your office building or on your front lawn, there are always options to make it a little more interesting. A California Privet Shrub is one of the most elegant shrubs that you can plant on your land. They are wispy and grow tall so that you add openness to your lawn. They don't block views but are a great way to add an edge.
Alternatively, the Golden Privet Shrub has a beautiful yellow coloring that could be the perfect addition to your lawns. Interweave these shrubs with green bush options to add a little variety to your patio or driveway. Forsythia shrubs are other yellow shrubs that have soft flowers. These shrubs are also huge and are a great way to add a beautiful edge. The unique thing about forsythia is that depending on the soil and the age of the plant, they produce different shades of yellow.
Buy Shrubs From A Trusted Nursery At Affordable Prices
When it comes to buying shrubs online, the bottom line is to buy them from the right online nursery. You don't want to waste your time and money on a nursery that provides subpar shrubs. With Tennessee Wholesale Nursery, we offer the best prices on the market, and you'll be blown away by the quality.
We pride ourselves on perfectly selected each plant and make sure that you're ordering the right ones for your zone. A one-year warranty is also included so that you can guarantee your plants grow up healthy the way they are supposed to. Have questions on how it works? Give us a call or reach out to us today. We would love to help you get precisely the type of shrubs for your landscape. Please browse through our FAQ page and then start the process. You'll have no problem ordering, and you won't find cheaper plants anywhere else. What are you waiting for? Get started now!