Perennials come back each year, and they are the ideal choice for homeowners who want the perfect spring flower bed. These plants come back each spring, making it look as if you spent hours preparing your flower bed. In reality, you did nothing! Your house will look alive with spring, brightening up the front of your house in anticipation of summer. Here are the best flower perennials for your spring flower bed.
Daffodils
Daffodils are often the first flower that pops out of the ground, announcing the slow arrival of spring. Their bright colors pop next to other plants of opposing colors. Kids love daffodils; they seem to grow almost anywhere quickly. These flowers do well in moist soils that drain quickly. They also prefer sunny or partly sunny locations.
If you want color early in the spring, some varieties do better. Dutch Master, Peeping Tom, and February Gold are early spring varieties.
Iris Plants
These plants have delicate, paper-like petals with intricate-looking blooms. Iris plants make ideal border plants mixed in with a variety of other spring perennials. Iris plants are easy to grow, producing foliage that looks similar to spears. On top of those stems, there are fantastic flowers. Their colors include yellow, orange, pink, blue, white, and purple.
There are different varieties of iris. The Siberian Iris blooms in spring. Ensure you check that you are purchasing the spring-blooming variety—some plants, such as the classic bearded iris, flowers in the summer.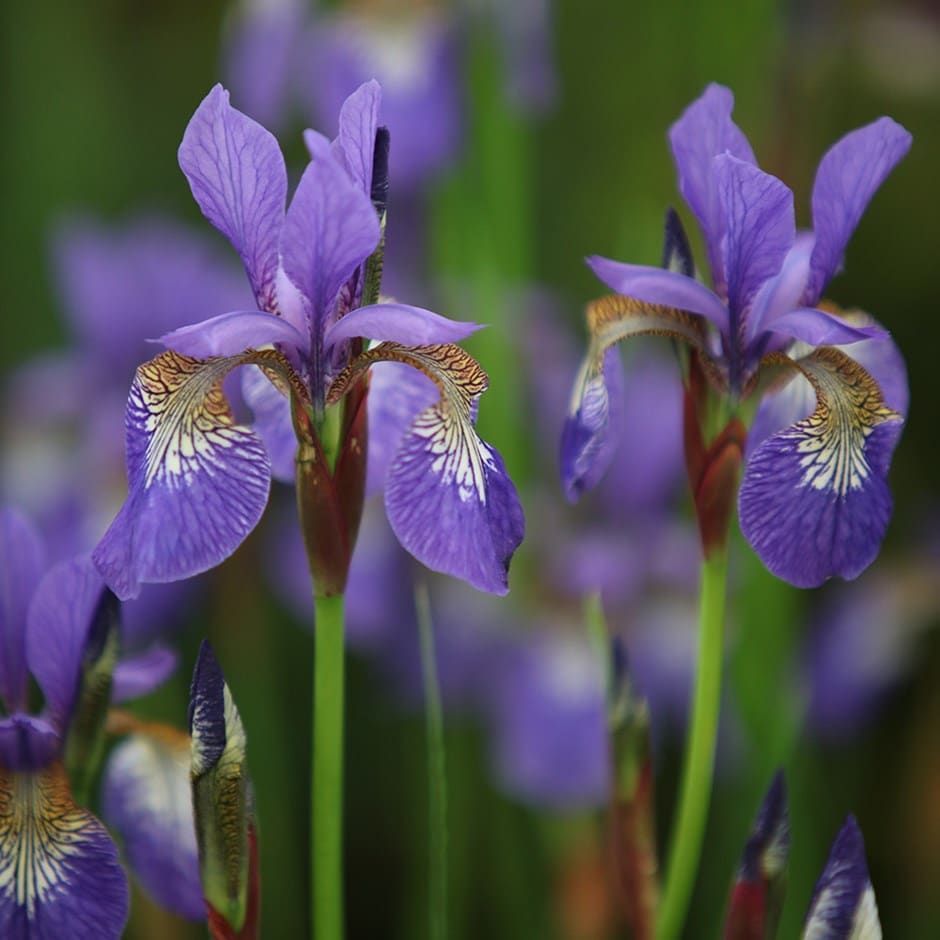 Hellebore
One of the earliest perennials that bloom each spring is Hellebore. The flowers are large, bowl-shaped, thriving in a variety of colors. Hellebores are white with splashes of different colors, like maroon, yellow and pink.
Hellebores are very cold-hardy, so you don't need to worry that a frost will kill them. You can plant them in areas that receive light shade throughout the day. Hellebores are deer-resistant, and you can grow them in zones 4 to 9.
Virginia Blue Bells
Virginia bluebells will brighten up your spring flower bed instantly. A sea of blue flowers covers your garden, creating a dreamy, beautiful sight. The flowers will disappear after some time, so plant other perennials around them to help the colors shine and to keep interest in that area of your garden.
Periwinkle
Periwinkle, sometimes called Myrtle, is one of the earliest spring flowers. It is a trailing plant that grows six inches high. The leaves are small, oval-shaped and dark green. Throughout the spring, five-petaled flowers cover the plant. Most come in a shade of blue.
This perennial require little maintenance. They prefer to grow in full sun but will tolerate light shade. Make sure the soil is well-draining. Periwinkle is an excellent ground cover, but be careful! It can be invasive and spread much broader than you anticipated. Be ready to trim it back as needed.
Violas
In early spring, violas pop up through the ground. Violas are a smaller flower related to the pansy. Violas grow masses of small flowers in a variety of colors. The flowers might be yellow, purple, blue, white, yellow or a mixture of several colors!
You can plant violas in your flower bed, but they also do well in containers or window boxes. Violas do well in a wide range of zones. Zones 2 through 11 can plant these beautiful perennials.
Baptisia
Baptisia is a late spring blooming perennial. It is a native, prairie plant that works great in flower beds or as a border plant. This perennial stands out because it is tall. Baptisia plants measure two to four feet tall and wide. It is somewhat drought hardy, and you don't need to devote much time to its care.